Well, look at that! Another Japanese novel has been picked up by Caelum!

That novel is: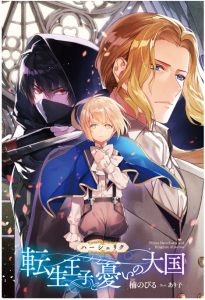 Herscherik (Reincarnated Prince Series)
The day prior to female otaku Hayakawa Ryouko's 35th birthday, she departed the world in a traffic accident. As she opened her eyes again, she was reincarnated into a beautiful blonde-haired prince of a great kingdom in fantasy world.

In that great kingdom… In Greisis kingdom, there's a king despised by his retainers, tyrant nobles, corrupt officials, and so on… It's in a precarious situation.

For the sake of protecting his father and family, as well as helping the citizens, the reincarnated Prince Herscherik is determined to fight.

Making use of his skill as an office clerk in the past, being full of initiative in his nature along with his (otaku-ish) intellect, the reincarnated prince faces many kinds of incidents.
Caelum will be picking up from where the last translator left off, so for those who enjoy the 'Reincarnated Prince Series', they will be in for a treat with this new addition to Blob Translations!

Notice! Calling all persons of interest for the position of editor for Herscherik (Reincarnated Prince Series)! If you are interested, please contact us at [email protected] or via the 'Contact Us' page. Make sure to note down that this is the novel you're interested in so we know which test to send you. ^_^

Latest posts by Blooming Frost
(see all)